Welcome to TEN Salon & Spa Online Gift Card Ordering!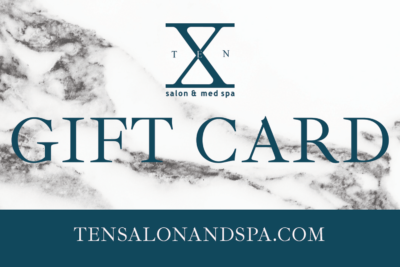 The perfect gift for someone special. A gift card to TEN Salon & Spa is a thoughtful way to express love, appreciation, or gratitude.
Gift Cards can be established in any amount and there is no activation fee when purchased. Choose the design that best represents your gift with our electronic (emailed) gift cards. Seasonal and Holiday gift cards will also be available throughout the year!
If you prefer not to come to the salon, you can purchase them online (see below), or call us with your credit card information and we will mail you (or the person of your choice) a Gift Card along with a service menu.
Gift Cards can be used to purchase any product or service at TEN. They can be used for gratuities as well.
Once issued, they cannot be redeemed for cash. Gift Cards, or any unused portions of gift cards, expire after 5 years from date of issue. We are not responsible for lost or stolen gift cards which cannot be replaced as they are not personalized.